Phỏng vấn cựu sinh viên MBA Alberto Romano, Italy
Name: Alberto Romano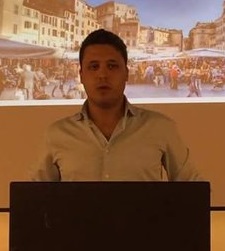 Place of work: Mars Italia (Mars Inc.)
Graduation year: 2016
Current Job: Junior Sales-Grocery Store Account
Where do you see yourself in 5 years?
In five-years time, I see myself holding a position of responsibility within the sales department of Mars, either in Italy or abroad.
So you finished classes in 2016, tell us about your experience after your MBA Program.
I started the two-years, two-cities MBA Program in September 2015., where I completed my first year at SSM in Rome with a specialization in Global Management & Leadership, and then moved to London for my last year, composed of 6-months academic track ( where I specialized in International Brand Strategy & Marketing) plus another 6-months of work experience, either internship or full-time job, for a total of 120 ECTS.
What skillset do you need to do your job?
To work in sales, particularly within multinational companies operating in the food & beverages industry, it takes a lot of curiosity and determination. At the beginning, it takes time to understand all the dynamics behind the task; however, as time passes, everything comes naturally and automatically and it it's easier to stand out.
How has your MBA helped you in your current position?
The year and a half studying at SSM and INSEEC in London enriched my personal as well as my professional background, making me a much more appealing candidate for companies. At Swiss School of Management, I definitely developed crucial public speaking skills, which are extremely important while delivering not only business-related presentations but also for personal selling purposes during interviews. At INSEEC, instead, I learned to work on projects with international classmates while living in one of the most dynamic cities in the world. Both universities in which I had the pleasure to study are highly-ranked and internationally-recognized, as SSM is accredited by US-based IACBE and INSEEC features master programs ranked among the top 50 worldwide in categories such as Luxury Management: Food and Beverage, Retail Sales Management, and Tourism and Hospitably Management.
What are your future plans?
After the MBA program I just received great news from Mars regarding the positive outcome of the job interview. I will focus on this great professional opportunity. In the same time, I will perfect my Spanish skills, in order to be a potential candidate for the company's further expansion in South American.
If you could describe your experience in Rome during your MBA how would you sum it up?
I am Italian, born in a small town next to Venice and raised mostly in Rome. I was lucky to spend a year in Dallas, Texas, to learn English and kept studying following the American educational way, at John Cabot University in Rome. Swiss School of Management was the ideal situation for me as it allowed me to live in Rome and finish an internship experience I was doing at that time. No matter if you are Italian or foreigner, Rome has so much to offer and will make everybody feel at home.
Can you share an experience that is most memorable with relation to the MBA program?
Out of the plenty experiences had while studying in the last year and a half, I'll pick two main anecdotes; one in Rome and another one in London. As for the first one, I happily remember negotiation class held by professor Massimiliano Bracalé in which he encouraged students to sit at a negotiation table discussing and negotiating on different job-related issues. In that occasion, I recall when he explained the importance of the Sales department within a company, and this is another reason why I decided to personally focus my career on sales. Another anecdote, happened in London in occasion of the big annual competition which I won with my team defeating all other groups. It was an important moment for me personally as everybody congratulated me on my rhetorical skills, previously developed at SSM.
What was your favorite class in the program and why?
Besides the Negotiating Globally class, I particularly liked Dynamics of Marketing & Research held by professor Giovanni Luigi Manente and Competitive Strategy by professor Robert J. Pardi.
What advice would you give newcomers to the MBA program or for those interested?
I would definitely advice young graduates and young professionals alike to take this opportunity as the small size of classes and the high quality of teaching at SSM would turn you into a much stronger candidate for hiring or promotion.
What do you think differentiates this MBA from other MBA programs?
The small-sized classes which allow a close dialogue with professors, the high professional and academic background of professors, the continuous focus of group projects and the meticulous attention to details while preparing and delivering presentations. Moreover, the important accreditation held by SSM (IACBE among others), as well as the possibility to obtain a two- or even tri-city MBA Degree in London and/or Paris will empower students to access many more job opportunities and a great professional network.