Phỏng vấn cựu sinh viên MBA Hanna Maria Zechner, Austria
Name: Hanna Maria Zechner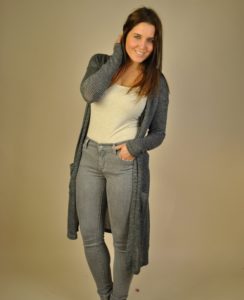 Place of work: Hofer KG, Austria
Graduation year: 2016
Current Job: Regional Sales Director
Favourite Quote: "Leadership is not about a title or a designation. It's about impact, influence and inspiration. Impact involves getting results, influence is about spreading the passion you have for your work, and you have to inspire team-mates and customers." Robin S. Sharma
Where do you see yourself in 5 years?
I am confident that in 5 years I will be promoted to a Senior Manager/CEO position in one of our Hofer branches worldwide.
So you finished classes in 2016, tell us about your experience after your MBA Degree Program.
I attended SSM's MBA Degree program after graduating from university with a BSC in Sports & Events Management in Austria. I finished my MBA at the age of 23. This gave me lots of self-confidence. This is why I decided to move to NYC to do an internship and gain more work experience. Learning and studying abroad in Rome and NYC contributed to my growth as a person and as a professional. Thanks to this, I was confident enough to take on the challenge of a management position at Hofer KG in Austria. Hofer KG owns and operates a chain of supermarkets and discount stores. The company was founded in 1967 and is based in Sattledt, Austria. Today, I manage over 100 people and am responsible for 5 stores.
What skillset do you need to do your job?
Leadership and Management skills are very important in my job. Recruiting, hiring and managing people, as well as motivating and supporting them in achieving their goals is the biggest part of my daily agenda. Organizational Behavior is on the top of my list as well as Marketing. I find it extremely important to transfer and share company goals and working policies to our employees.
What are your future plans?
I am currently very happy with my job and my position. The company has proven to be a great employer, and I am proud to work for it. My goal is to grow together with the company and to climb up the career ladder. I am motivated to gain experience in other departments, so that I have the expertise to take on more responsibilities. One day, I would also like to become an entrepreneur and share my experience in business schools, teaching business related subjects and Organizational Behavior.
If you could describe your experience in Rome during your MBA how would you sum it up?
At SSM I learned a lot from people with extensive experience on management level. Faculty members are professionals who work in the same fields of expertise that they teach. When I started, I was just a young university graduate without too much living and work experience. Thanks to my classmates and professors, motivating and pushing me beyond my initial uncertainties, I was able to quickly grasp the concepts of leadership and business skills needed for the world outside of the classroom. Thanks to group and individual projects I had to do in and outside of the class hours, I was able to learn and perform on the same level as my more experienced classmates. Further, walking through the streets and corners of the ancient city or Rome gave me the motivation and the assurance that I was in the right place. Rome is where some of the greatest leaders in the world have lived. Their leadership and strategic skills raised the status of Rome to become the center of the world for a significant period of time. It was an amazing experience.
Can you share an experience that is most memorable with relation to the MBA Degree program?
Maybe the most memorable experience I will keep with me forever was the comradeship between my classmates and my faculty members. Despite my young age and little experience, they were able to lift me up to that point I was thinking I was able to accomplish everything in life. Their patience, motivation and trust were making me fly. I learned so much from them. I've for sure become a better student, but moreover, I've become a better person. I learned to become a team player and a leader at the same time.
What was your favorite class in the program and why?
Besides Negotiating Globally class with Prof. Bracalé, I particularly liked Dynamics of Marketing & Research held by professor Giovanni Luigi Manente and Competitive Strategy by professor Robert J. Pardi. I loved those classes.
What advice would you give newcomers to the MBA Degree program or for those interested?
This program changed my life! I've become a better professional and a more mature person. At the end of the program, I was confident enough to take on important challenges I would have never thought I was able to do. I do warmly recommend this school to those who want to make it in business, become leaders, who have dreams and want to learn how to make them come to life. Your experience at SSM is a priceless opportunity to absorb the right tools and techniques to let you achieve your goals and dreams.
What do you think differentiates this MBA from other MBA programs?
I think it's the style of teaching and the collaborative work experience that is so completely different from other universities. It's because the teaching is very personal and focuses on each person individually. You'll always get direct and important feedback and everybody is working close with you to become the person you want to become in the future. Thank you for everything. I am very proud to belong to the SSM family.